total-saturation ski weeks in Aspen
because life is too short not to live it as an expert skier...
Dates now set for the coming season!
More than ten years ago, my friends in the Aspen ski school invited me to create a special ski-week program based on the success of my Breakthrough On Skis book and tapes. They gave me carte blanche to create my ideal ski teaching situation and that's just what I did. These annual courses have been a great adventure, and a great success.
A few years ago I decided I needed more time to work on new books and videos, and so, with more than a little regret, I realized I just didn't have time to direct these ski weeks in person any longer.
Luckily, my team of ski pros wasn't about to let this amazing program drop. Lavelle Saier and Mike Romanus, two of my best friends and two of the best ski pros of all time, have taken up the challenge. For several seasons they have not only directed these instensive, total-saturation Breakthrough ski weeks, but they have improved them. I can promise not just breakthroughs, but breakthroughs that last, that will transform you into a different more accomplished amd more confident skier.
Lavelle and Mike will be ably assisted by the same top pros who taught and trained with me for most of the last ten years. I can absolutely guarantee that these Breakthrough ski weeks are the best and most effective ski courses offered anywhere. I can't recommend them too highly. Groups are very very small and space is limited. Don't wait to sign up, as these course are usually filled by the time the snow flies.
When:
December 11-16, 2011
January 8 - 13, 2012
January 15 - 20, 2012
January 22 - 27, 2012
January 29 - February 3, 2012
The Cost: The five-day course cost of $1,699 includes five days of instruction, a six-day lift ticket, après-ski lectures and a banquet dinner. If you arrive early or would like to stay longer, an extended lift rate is available.
To sign up:
Call the Aspen Skiing Company, toll free, at:
1 877 282 7736
or you can email the Breakthrough course coordinators, Lavelle Saier or Mike Romanus, at the following addresses:
Lavelle Saier at ocean-eyes@msn.com
Mike Romanus at rom@rof.net
You can also download a brochure with full details on this season's courses (in pdf format) by clicking
on some computers you may need to right-click and select the "download linked file" option.
Additionally, my amazing team of Breakthrough ski pros is available and ready to create custom Breakthrough weeks for small groups of students. Not only in January or early December (as is the case with the scheduled Breakthrough ski weeks mentioned above) but throughout the season. This option is very cost-effective when four, or five, or six friends, who ski at roughly the same level, book a trained Breaktheough ski pro (as a private lesson instructor) for a tailor-made week of intense skiing and learning. I can't say enough about the guys and gals who have taught with me these past seasons. On a linked page
you will find bios, photos, and contact information for this elite group of ski instructors. They are simply the best of the best. To book a custom Breakthrough-On-Skis week with one of these pros, call the Aspen Skiing Company, toll free, at: 1 800 525 6200 and ask to talk to Holli at the Snowmass Ski School Private Lesson Reservations Lounge (Holli's direct phone line is 970 923-8735 and the local Aspen number for the Snowmass Private Lesson Lounge is 970 923-8716)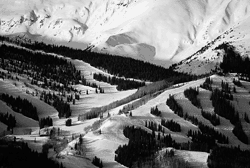 I don't want to end this page without one last and heartfelt expression of thanks to my many students over the years, to the wonderful pros I have worked with at Aspen. And not least, special thanks to the Aspen Ski School, for always backing and supporting innovative new directions in ski teaching. Bravo Aspen!