The Straight Course
speed skiing in the 60s
by Dick Dorworth,198 pages, $15.95 softbound, plus shipping
Also available through amazon.com, and as a Kindle eBook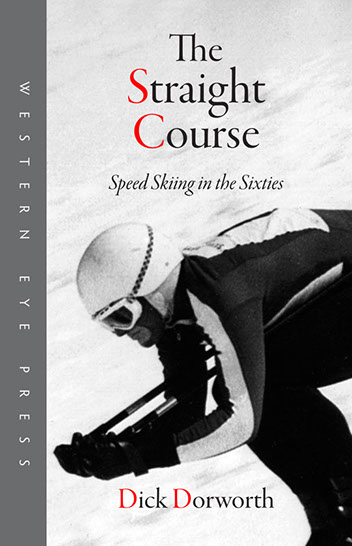 The Straight Course offers us an insider's look at some little known, and incredibly exciting pages of ski history. But it's a lot more than just a retelling of the skiing feats of an earlier generation. This book is an intensely personal exploration of how and why a skier, and maybe anyone, can put themselves on the line, make commitments and keep them, balance fear and fearlessness, and ultimately explore skiing as a metaphor for life. A good read, and a genuine adventure.
About Dick Dorworth...
Dick Dorworth has skied and climbed in Europe, Asia, Alaska and South America; but he's spent most of his life in the mountains of the West. He ski raced extensively from 1950 through 1965 and was one of the pioneer practitioners of pure speed skiing. Dick taught and coached skiing for years, served as coach of the U.S. Ski Men's Team. and later Director of the Aspen Mountain Ski School.
Dorworth's writing has appeared in Ski, Skiing, Powder, Snow Country, Mountain Gazette, Men's Journal, Climbing, New West, Mariah, Wild Duck Review, Summit, and Backpacker. He is a reporter and regular columnist for the Idaho Mountain Express in Ketchum, his home base. Most winter days he skis, either on his favorite mountain, Baldy, or in the backcountry. In summer he climbs. He is a registered Democrat who thinks his party needs more calcium in its diet. Although a member of the Sierra Club, he thinks Deep Ecology is closer to the mark. Night Driving, Dorworth's first book was published in 2007 by First Ascent Press.
As I explained after publishing Dorworth's book of skiing tales, The Perfect Turn, Dick is a great and long-time friend of mine. We go way back. In 1968, with our friends Yvon Chouinard and Doug Tompkins we drove from California to Patagonia, where, along with British climber Chris Jones, we made the third ascent of an incredible peak, Mount Fitz Roy. Dick has always been a writer as well as a skier and mountain adventurer, and always an inveterate journal writer. I remeber him scribbling his journal in a small spiral notebook when we were blocked by a storm in a tiny ice cave halfway up Fitz Roy. Dick's journal entries from the sixities give an immediacy to his story, and make his reflections on the early days of speed skiing come vividly to life. It's a gripping, non-stop, high-speed tale. A skier's story: looking for speed, finding meaning.
Good reading! And good skiing! Lito