Breakthrough on Skis II
Bumps & Powder Simplified
the second video in Lito's Breakthrough on Skis series
One hour, DVD, with a printed explanatory booklet included, $29.95 plus postage, also available on amazon.com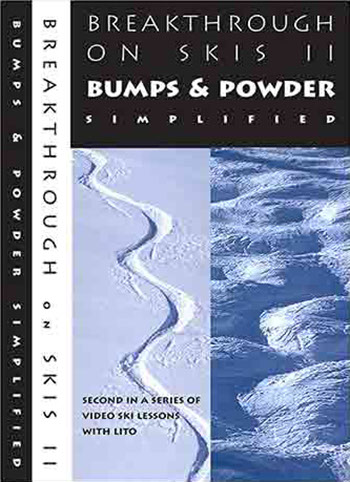 This video focuses on the two most challenging conditions for most skiers: bumps, and powder. For most skiers — most of the time — "moguls," or bumps, represent a continual and continually frustrating challenge. Powder snow, on the other hand, seems like an ideal of grace and beauty, glimpsed from afar, but seldom experienced or enjoyed to the full. Lito wants to change all that. And he does, in this one-hour video that breaks the challenge of bump skiing down into simple, basic, easy-to-master steps.
Lito introduces a smoother, gentler style of skiing bumps— bump skiing for the rest of us—in which the skier uses the shape of each bump to turn, and to slow down. He reveals and explores different lines through the bumps; the short fast exit from bump turns and the long slow exit. Finally he show you how to put it all together in long continuous graceful bump runs. A revelation! And then, after making friends with bumps, Lito turns his attention to the secrets of powder snow...
How to overcome the greater resistance of deep snow; how to work your skis within the snow; and the advantages of extra-fat powder skis. He makes it as easy as it looks. Once again, all the techniques in this tape work with the new shaped skis—only now, they work better than ever.